Are you looking for a fun and safe summer camp for your kids? Have your kids join Boundless Summer camp where they will enjoy gymnastics, arts and crafts, Ninja, field trips, circus classes, games, obstacle courses, outdoor playground, dance, and more, all from their new, air conditioned, facility in Stuart.
In our nation's time of need, Boundless will continue to provide the "Community Outreach Camp. This camp, created last summer, is designed specifically to help first responders and those in need of last minute changes. Restrictions apply, contact us for full details.


Ages:
Standard: potty trained to 12 years
Community Outreach: All kids under age 12
Location: 7936 SW Jack James Drive, Stuart 34997
Days: Monday - Friday
Dates: June 1st - August 6, 2021
Hours:
Standard: Full day camp hours: 7:00 AM - 4:00 PM | After care to 6:00 PM
Community Outreach: 7:00 AM - 6:00 PM
Cost:
Standard: Full Day/week: $155 / $55 per day
Community Outreach: $105 Full day/full week (lunch included)
Standard Camp Additional Costs: $6 per day after care (4 PM - 6 PM) Cash only
Sibling Discount: 10%
Registration/Application Fee: $40 p/child
Registration/Sign up Procedure: Register online at www.boundlessgym.com | Register one week in advance, sign-ups close the Friday before. Drop ins are welcome if space is available.
For More Information or a Tour: Call 772-618-5186, email info@boundlessgym.com or visit us online at www.boundlessgym.com
REVIEW:
"My family is new to the Martin County. The staff at boundless gymnastics were very kind and helpful in choosing what would be best for my girls this summer. The facility is very nicely kept and clean. Which is a big deal for me. Needless to say she had an awesome time at camp! Can't wait for summer camp knowing she will have fun and get to try so many things!" ~ Jen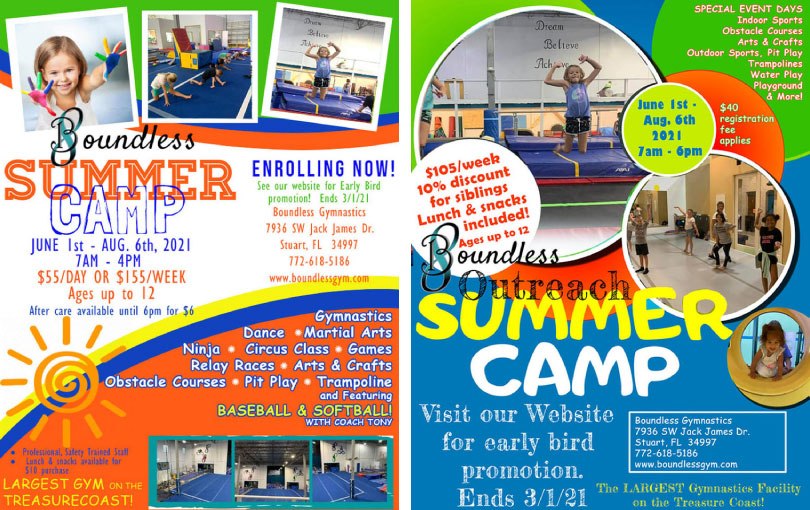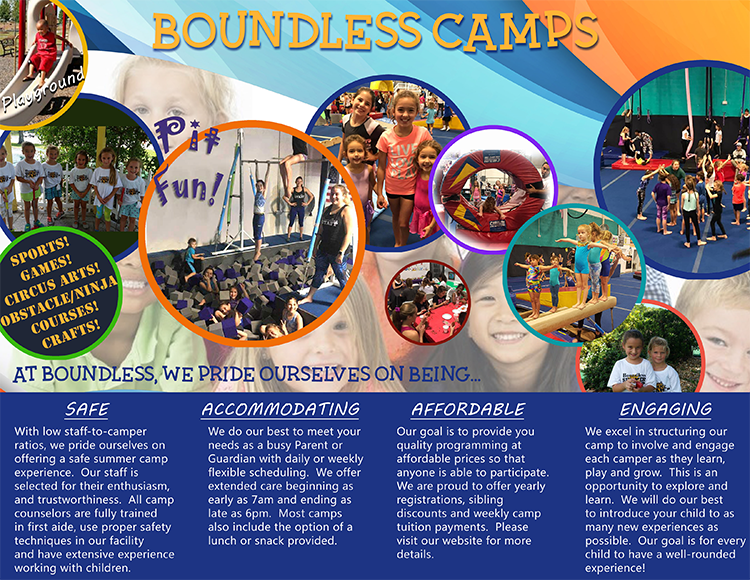 Boundless Gymnastics is a sponsor of Macaroni Kid Port Saint Lucie's 2021 Summer Camp & Activities Guide
Business Review
"My family is new to the Martin County. The staff at boundless gymnastics were very kind and helpful in choosing what would be best for my girls this summer. The facility is very nicely kept and clean. Which is a big deal for me. Needless to say she had an awesome time at camp! Can't wait for summer camp knowing she will have fun and get to try so many things!" ~ Jen