Summer 2021
Momentum Academy's summer camp is for kids who have tons of energy, like to learn new skills, defy gravity and have FUN!
This year, Momentum Academy offers two different camps:
Ninja Summer Camp - Ages 6 to 12
The most active summer camp on the Treasure Coast! Our students will build strength of character, muscles and confidence as they face super fun athletic challenges on obstacle courses, the flying trapeze, the tramp wall or the air bag! Fitness games, conditioning, contests... get ready to pick up some tired campers!


Aerial Summer Camp - Ages 10-17
The best option for campers looking to learn or perfect their aerial skills! Our aerial summer camp will allow them to try different aerial and acrobatic disciplines and learn new tricks. Stretching and flexibility, conditioning and dance will help them reach their goals. Flying trapeze, lyra, single trapeze, silks, handstands, and fun games are waiting for them! No experience necessary! We cater to all levels. We adapt the apparatuses, skills and exercises to the campers' age, level and abilities to ensure that all will learn, progress, be successful and have fun!
Our circus instructors and counselors have extensive experience delivering fun circus classes and activities to young kids and teenagers.
Circus activities allow kids to be themselves and discover their strengths. Circus provides opportunities to set goals and through hard-work and discipline, achieve them. Through the learning and performing of circus acts, students develop healthy bodies, confident spirits, and valuable abilities to cooperate and trust others in a challenging, fun environment. Momentum Academy fosters physical fitness, strength of character and self-confidence.
Kids will have an exciting summer, full of fun challenges and activities they will never forget!
Ages: 6 to 17 (as stated in the camp descriptions above)
Location: 550 NW Mercantile Place, Port Saint Lucie 34986
Phone: 772-249-0178
Days: Monday - Friday
Dates:
Ninja

June 7th - June 11th
June 14th - June 18th
July 19th - July 23rd
July 26th - July 30th

Aerial

June 21st - June 25th
June 28th - July 2nd
August 2nd - August 6th
August 9th - August 13th
Hours:
Half Day Morning: 9:00 AM to 12:00 PM
Extended hours may be available on certain weeks. Please contact Momentum Academy
Cost: $175- $200
Additional Costs: Option to add private lessons available
Sibling Discount: None
Registration/Application Fee: $25
Registration/Sign up Procedure: Register Online at www.themomentumacademy.net/summercamp
For More Information: Visit www.facebook.com/MomentumAcademyPSL or call 772-249-0178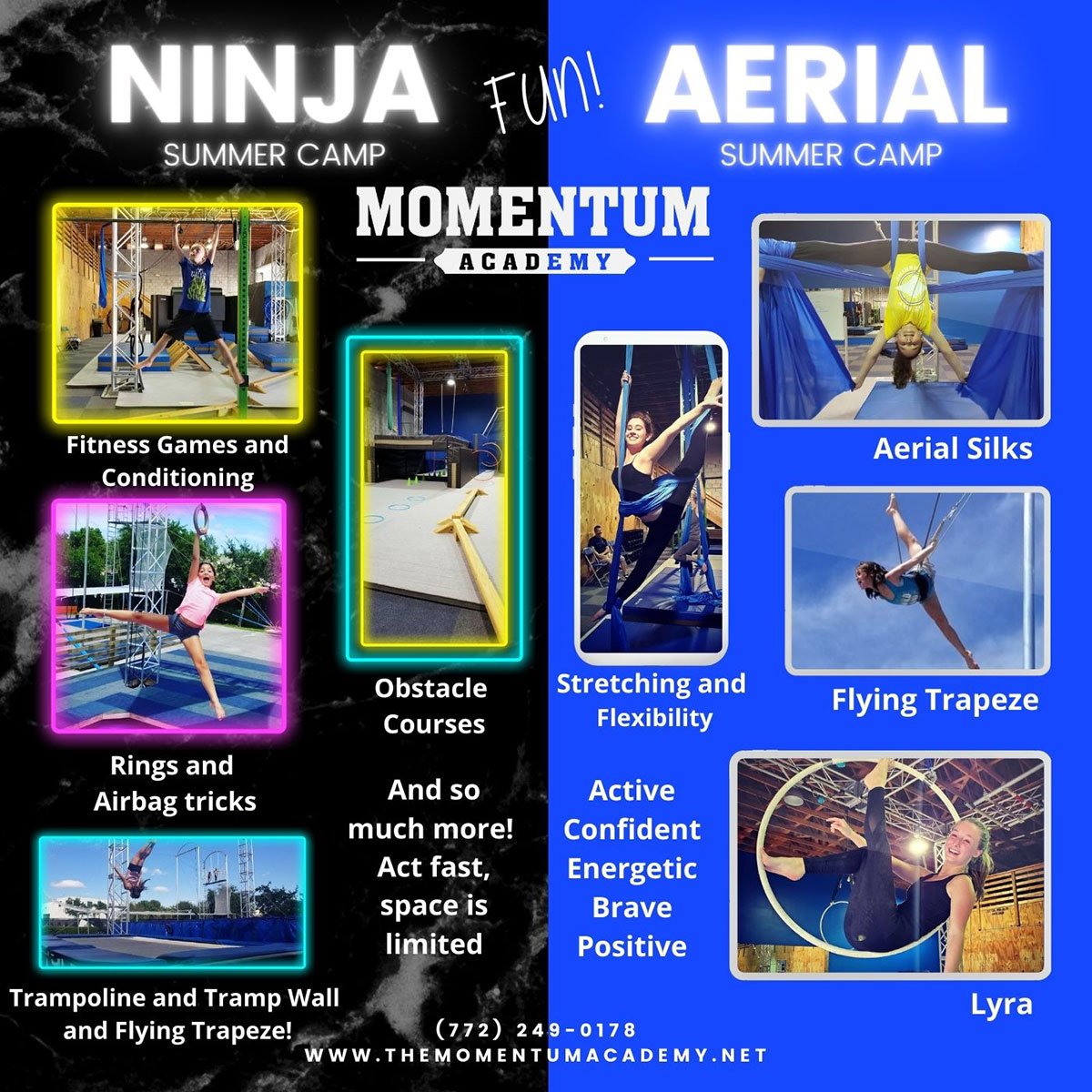 Business Review
"Momentum Academy is the best 🌟 Scarlett can't wait to attend again!!" ~ Lavinia Dobre
"My two kiddos, 10 & 12, went here for a week of summer camp. They had the BEST time! Angel, her family, & staff are wonderful. You'll have a great time at Momentum Academy" ~ Leigh Clay
"My son gained so much confidence the first time he was at Momentum Academy. The next time he went, he was trying all sorts of new moves, all under careful guidance and observation. The perfect mix of challenges and encouragement" ~ Hannah Kozlowski