The 3rd Annual Fishing for Futures Tournament, benefiting Boys & Girls Clubs of St. Lucie County (BGCSLC), is not just for the anglers on our waterways. In anticipation of the return of the fishing vessels, all children and families will be able to participate in the Fishing for Futures Family Fun Festival at the Manatee Observation and Education Center, Saturday, June 12, 2021 from 10:00 AM to 4:00 PM.
The one-day festival will keep families entertained with a slew of activities including hermit crab races, music, frog catching contest, a performance by the BGCSLC Drum Line, a demonstration by the St. Lucie County Sheriff's Office Marine Unit, fishing demonstrations for kids and more. There will also be a BGCSLC Pop-Up Club, the traveling roadshow of the games, fun and activities which usually take place in a Club house.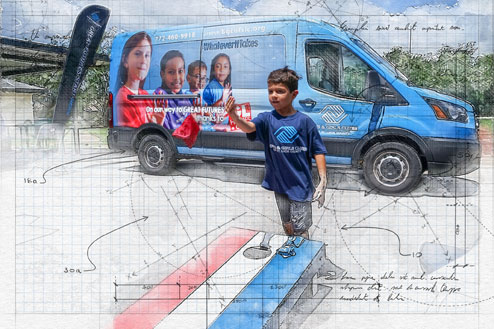 The Boys & Girls Clubs of St. Lucie County Pop-Up Club will be one of a host of activities and games offered during the FREE Fishing for Futures Family Fun Festival.
The Manatee Education and Observation Center will offer free good and activity bags to the first 100 youth in addition to visiting their 2,000 square-foot environmental education center that contains fresh and saltwater aquaria, a touch tank, interactive displays, and other interactive living and non-living exhibits.
Up to 60 Clubkids will enjoy their first fishing experience on the water thanks to Daymaker Charters, MetCo Marine Electronics and Stuart Sailfish Club Foundation. "This added festival to the tournament will give these Clubkids and families from all over something great to do while the tournament is in full swing," said Rick Miller of TRM Construction Management and founder of the event.
Each of the winning fishing teams will receive a complimentary ticket for a pig roast following the tournament weigh-in. Guests of the Festival will be able to purchase a ticket for the pig roast for $10.
"We appreciate all of our partners and sponsors that have stepped up to give kids something to do both on and off the water with their families after so many have gone with limited human contact for the past year," said Will Armstead, CEO of BGCSLC.
Vendor space is available for the Festival. For additional information or to sign up please visit https://bgcslc.rocks/fishing or call (772) 460-9918.
About Boys & Girls Clubs of St. Lucie County
Boys & Girls Clubs of St. Lucie County is a non-profit organization dedicated to providing youth a path to success for every young person who walks through our doors, and that every Club member graduates from high school with a plan for the future, demonstrating good character and citizenship and living healthy lifestyles. The Club enables all young people to reach their full potential as productive, caring, responsible citizens.
With 22 locations throughout the county, Boys & Girls Clubs programs serve a diverse group of kids from grades K-12. We serve 16,000 youth throughout the year from a variety of backgrounds. Please see for yourself by taking a tour of an area club by calling (772) 460-9918 or visiting www.bgcofslc.org or at www.facebook.com/bgcofslc.