Spending more time at home than ever before with your favorite pets and little people? So are we, and we wondered about ways to keep both our pets and kids engaged in a fun and educational way during these days at home.
We asked the lead veterinarian for Merrick Pet Care, Dr. RuthAnn Lobos, a practicing veterinarian with more than 15 years in the pet food industry, to join us for a fun virtual chat to give us some ideas and we thought you might have some questions too! She is an avid marathoner and triathlete and proud mama to an adventurous 5-year-old boy and three active pups: Rigolets, Stella and Finn. Prior to her current role with Merrick, she was responsible for directing global scientific programs and events for the Purina Institute, collaborating with veterinary and scientific thought leaders to promote and share research and knowledge about proven nutritional science to help pets live better, longer lives.
So whether you have a new pet at home, or have had one for years, we'd love to have your family (and pets!) join us for our online chat April 30 at 1 p.m. EST with Dr. Lobos.
Please register here so we can send you the Meeting ID and password to gain access to our virtual chat. All who register will be entered to win prizes given away during the call!
Meanwhile, here are five creative and fun ways to engage kids and the pets they love at home:


Play a fun game of hide and seek with your pup. Can they find you? It helps if you have their favorite treat! We love Merrick's line of treats, specially Merrick Fresh Kisses, which are all-natural dental treats infused with ingredients such as Coconut + Botanical Oils that not only clean teeth, but also give dogs great fresh breath!
Check out our video above of Chief Macaroni Kid Joyce Shulman playing a game of "Find Me!" with her dog, Moose!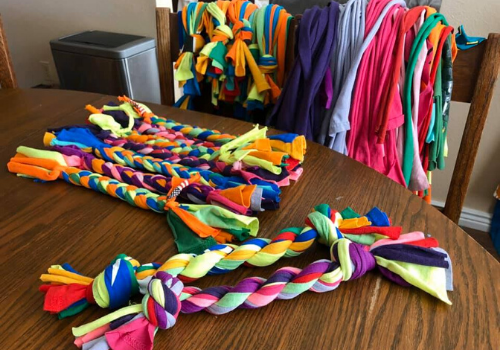 Have a dog who loves her toys? You can make your own easy braided dog toy out of an old T-shirt! Simply cut off the seams and hems and cut into strips at least 12 inches long. Roll the strips so they look like a hot dog, then tie together three strips with an overhand knot. Tightly braid. Secure the end with another tight knot. Trim ends. Play fetch!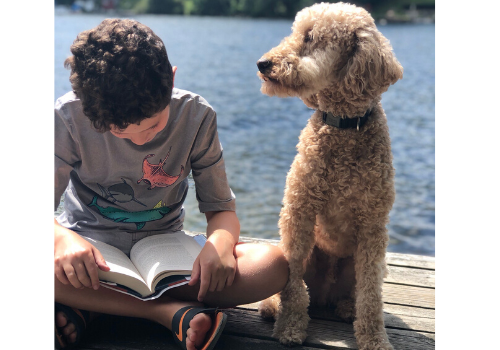 Have a reluctant reader? Dogs are incredible listeners! A study by the University of California-Davis Veterinary Medicine Extension found third-graders who read to dogs once a week for 15 minutes improved their fluency by 12 percent over a 10-week period. Don't have a dog? We bet most other pets listen just as well!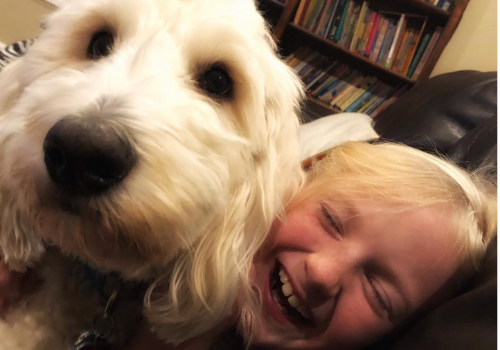 Kids can learn a great deal about responsibility from owning a pet and now, with kids home so much more than usual, is a great time to teach them how much consistent care, love and attention pets need to thrive. Learn more here.


Sure, one empty box can give your cat and kids hours of fun. But give them more than one? Heaven! Kids can practice engineering skills and create the ultimate kitty fort out of empty boxes. Sure to provide hours of entertainment for the kids ... and the cats!

Committed to improving the lives of pets and their parents, Merrick offers nutritional dog and cat food recipes crafted by a team of experts in their Hereford, Texas, kitchen with higher quality ingredients and real whole foods.
Learn more about Merrick Pet Care, including the company's commitment to partnering with local and national organizations that support their passion for pets – including PAWS Chicago, Austin Pets Alive!, and San Antonio Pets Alive!, among others.
Merrick Pet Care also has some great training videos and tips for the easiest way to train a new dog.