Pictured above - photos from Port St. Lucie Christmas House in 2013

The 2017 Port St Lucie Christmas house is the private home of JW Salveson and Jerome Sangalli. These gentlemen work tirelessly each year to put up over 70 Christmas Trees and Displays inside their home, then open their doors to the public, all to benefit two local charities: The Children of CASTLE as well as the county's NO-Kill Animal Shelter, Dog's and Cat's Forever. Literally thousands attend this annual open house to see the Christmas Wonderment and how they have outdone themselves year after year.
They ask that each person visiting and touring the home bring a new, unwrapped toy to be donated directly to local children or purchase a $10 ticket for a chance to win a 7 day Cruise for two aboard a Royal Caribbean Cruise.
This year, it is more financially difficult as JW had been out of work due to a terrible car accident two years ago and the Doctor's advised that he would never walk again, to which, after three surgeries and therapy, he is able to miraculously walk. Because of the accident, this is the first time in two years that the Christmas House is once again presented to the public. There is no greater joy than for these two gentlemen to present Christmas to the community, out of their love and from the bottom of their hearts. The Christmas House almost didn't happen again, but miracles do happen.
Thousands of local and under served children from CASTLE will benefit from the Christmas House and hundreds of animals will be saved at Dog's and Cat's Forever No-Kill Animal Sanctuary through their generosity and hard work. It takes four months to build this magnificent display inside their private home, and yes, they do live in the home at the same time.
It also costs a great deal of money to put this production on, and for the first time, JW and Jerome are seeking the help from folks like yourself to assist with the offsetting of expenses. Things like Electric (75,000 lights and animated decorations inside and outside the home), Insurance, Electricians, Refreshments for Volunteers, Entertainment (DJ's and Professional Santa's every night during their High Season), Printing Costs, Fees and Permits, New Lights, New Trees, New Displays to build and yes, even Port-O-John's for those waiting to get inside the home (Over a two hour wait nightly).
Please, won't you consider being a part of a wonderful tradition in the community as we keep it local and pay it forward for children and animals.
Go Fund Me: https://www.gofundme.com/portstluciechristmashouse.
For more information please visit the Port Saint Lucie Christmas House on Facebook.
To view videos and more of the Port St. Lucie Christmas House, follow the links below:
Montage from the 2014 Christmas House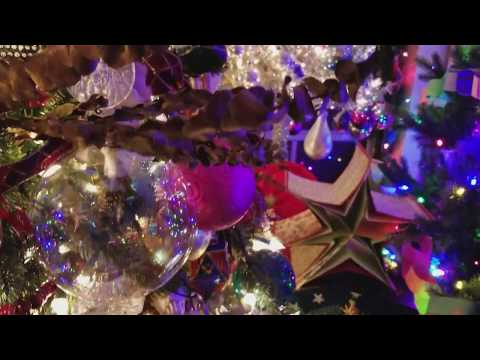 ​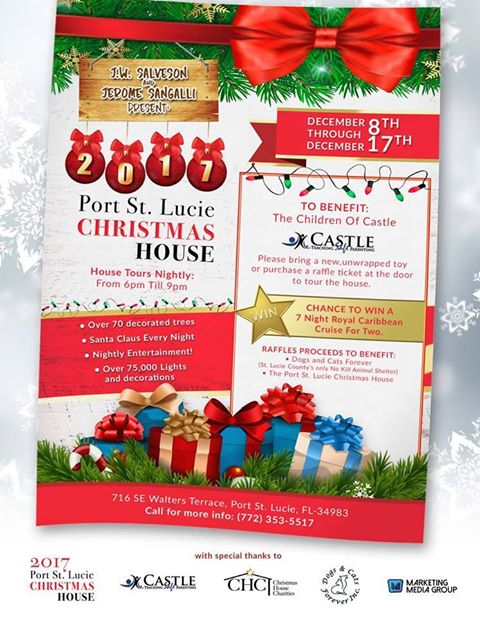 ​